FABRIC AIR – AIR DISPERSION SYSTEM
Fabric Air is a modern technology Air Dispersion System. It is the Future of Air Dispersion; which save up to 70% on total installation and 40% on operating costs by switching from metal to Fabric-based Air Dispersion Technology. Fabric Air Dispersion technology made the project a success for all parties involved. It is cheaper, faster with outstanding performance.
We make the architect's creative vision possible
Function and aesthetics combine to create the perfect indoor environment with a stylish look that matches the building architecture.
Freedom in design
Aesthetic solution
Low energy consumption — save up to 40%
Virtually silent
Hygienic and non-corrosive
The highest level of occupant comfort
We make engineering IAQ easy
It is easy for you as a consulting engineer to partner with FabricAir. We design the systems for you and prepare drawings and specifications, so you don't have to.
Unsurpassed technical performance
Long lasting
Free of condensation, noise and drafts
Suitable in food processing and cleanrooms, Class 3
Less expensive than conventional metal ducting
Good option for value engineering – save up to 70%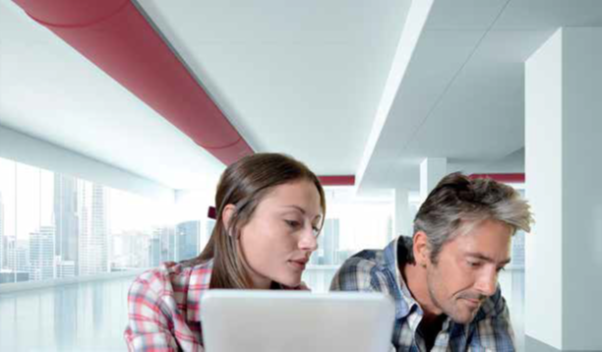 A FabricAir Dispersion System consist of four components: profile, fabric, flow model and suspension. These may be combined in infinite ways to match the specific requirement of given project.
By combining the ideal solutions from each component, our expert team creates a customized air distribution system tailored to your specific needs. This approach ensures supreme air dispersion and comfort regardless of the complexity of the project requirements.

For further detail please feel free to send your inquiries.